Raging Waters Sydney, the top attraction for families in Sydney 
Still not sure what to do this hot summer? You've looked over tons of websites and reviews, and you are still deciding where to take your family to unwind. You had a few choices for your ideal paradise: A great place to create fun and unforgettable memories, all while soaking under the rip-roaring fun summer sun? You're looking for more than just a 'relaxation location', it's one where you can visit over and over.
Of course, we've got you covered! There's a lot to do in Sydney, one of the biggest cities in Australia. From sight-seeing to art gallery visits to outdoor adventures, or even amusement park rides, Sydney has got you covered. We'll be introducing a few places you can visit in Sydney, such as the Sydney Opera House, Bondi Beach, and Taronga Zoo. 
If you want to create beautiful memories through a summer outdoor adventure with your family, the Royal National Park is the place to be. It showcases many beautiful landscapes, from open fields to coastal cliffs. Whatever your purpose is, the Royal National Park is great for camping or even a day trip.
The Lane Cove National Park is great too, it's a real oasis in the jungle. There is plenty of flora, where you can also spot some of the most beautiful birds in the world, such as the kookaburra. It's also a great place to cycle, and nature lovers won't be disappointed. The best part? The Park is only 30 minutes away from Sydney's city centre.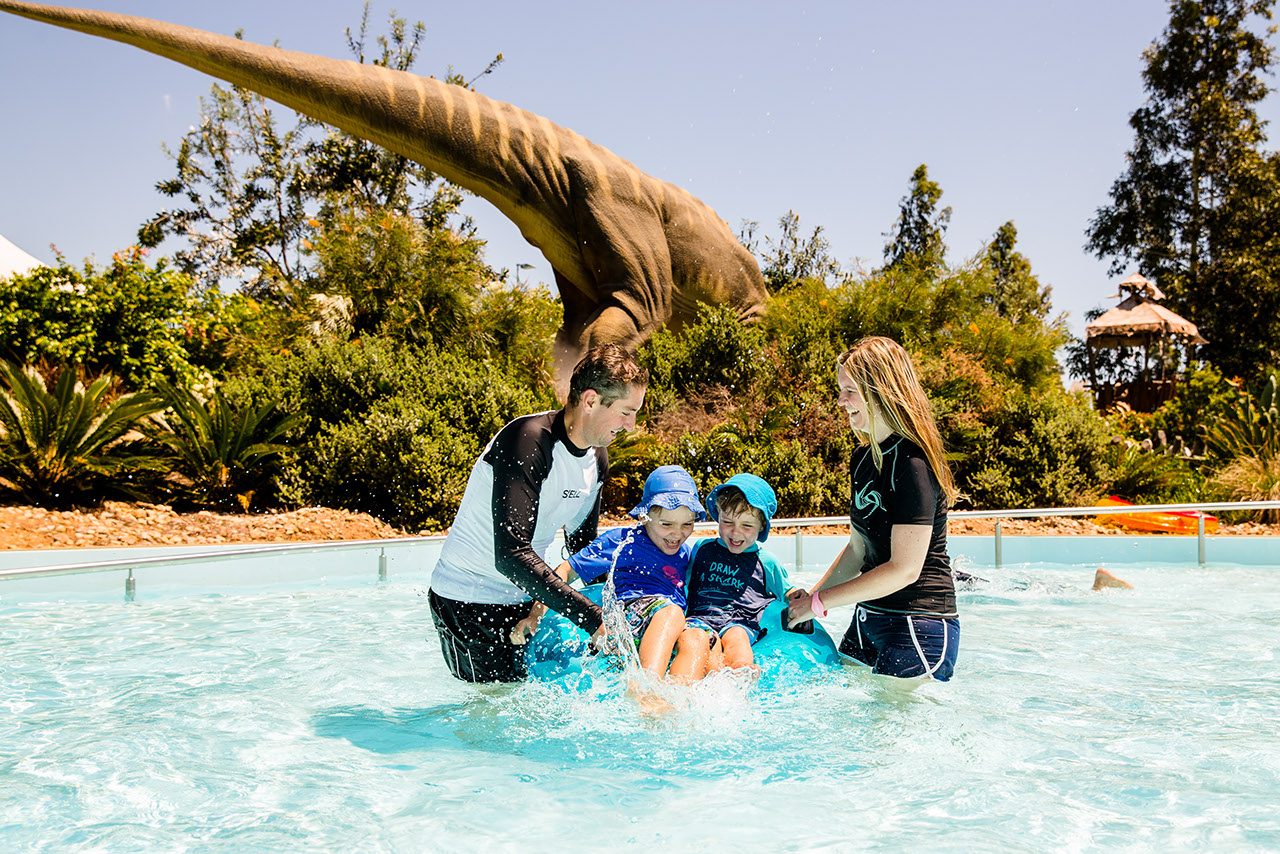 If you're a history lover, the Aboriginal and Pacific Art Gallery is a great place to learn about Australia's indigenous culture. Sydney has annual Aboriginal cultural events and art markets, as well as exhibitions. Contemporary art lovers won't be disappointed - the Aboriginal and Pacific Art Gallery showcases a modern perspective of Aboriginal culture, while providing new exhibitions every month. 
The city has something for everyone, from food to shopping. The various suburbs have different atmospheres, so you'll find something for everyone in this urban paradise. 
Looking for something for everyone in this summer to indulge in? We've got the place for you – Raging Waters Sydney, one of the most popular water parks in Sydney!
Raging Waters Sydney features over 30 attractions - water slides, a large wave pool, children's area. It's the perfect place to host your next family outing, if you want adrenaline and rip-roaring memories with a 360 full range of fun and emotion.  
Thrilling attractions for brave families.
We have the most popular thrilling rides in Sydney, guaranteed to keep your adrenaline pumping, satisfy your quest for adventure and make you want more. 
Now you want something exciting to kickstart the summer. Something bold to keep your heart racing for more. Why not take a ride on 360Rush? 
Get ready to slide into happiness with 360Rush, a water slide that plummets you through a 360degree loop at 60km/h. You'll stand in a launch capsule, bracing yourself for zero gravity, while the trap door opens beneath your feet. You can also choose to race side-by-side against a family member or friend.  
Another fun fact is that the 360Rush is also one of Raging Waters' popular looping water slides. 360Rush earns its name because of the 360degree loop and rip-roaring speed (60km/h) it offers. This is the perfect slide if you want to enjoy the suspense and be entertained all by yourself. 
Still in the need for speed? We've got you covered – there's H2Go Racers, where you can challenge your family or friends in a downhill race to the finish! 
Turn up the heat and get the thrill of a lifetime by putting your slide power to the test, and brave turns at every slide. 
After a thrilling experience, you'll want to share with the world how fast you can go, so don't forget to share your time. Feel free to capture a victorious selfie with your family, as you soak in the summer glory of overcoming H2Go Racers. It's definitely an unforgettable ride you'll want to capture these moments at. 
The next ride you wouldn't want to miss is T5. You'll slide back and forth as you ride through a few turns, before being covered in darkness through a dark tunnel. Adrenaline lovers won't be disappointed – bring your family along if you want the best experience in T5. Best enjoyed in groups, if you want to wow your friends with your courage as you brave the T5 together with your friends and family. 
Another must do attraction to add on your list is Aqua Tube, where you'll scale new levels of darkness through an enclosed high-speed slide. A great place if you want to hide from the sun… and let the water guide you to the final splash! The ride can be enjoyed with your partner, but you can also take a family member or loved one to have a good splashin' time!  
If you're still craving for more, and want your family to join the fun, Bombora is ideal for some rip-roaring fun. Also, one of the popular rides at Raging Waters, Bombora is a ride that must be on your to-do list. Be ready to be served a slice of fun and zero gravity as you soar down to the currents below.   
Not an adrenaline lover? Need something relaxing and light-hearted? We also have… 
A full fun paradise for relaxed families.
Enjoy a full fun paradise by The Beach and soak your toes in the cooling water. 
If you're a fan of sandy beaches, The Beach is for you. A great place where you can take selfies, be ready to be dazzled by its white sandy shores, and it's kid-friendly: there are no rips or sharks.  
The Beach, be it for taking a splash, or to create rip-roaring memories with your family, it's a great place for any occasion. For families with children, it is recommended to have adult supervision. Create your own summer memories at The Beach now!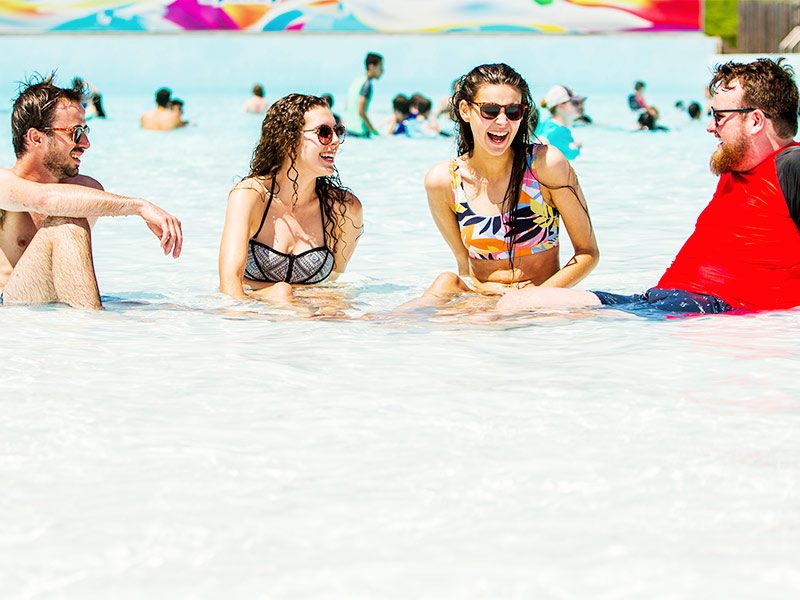 After a long day, you'll want to unwind at the Cabana. The spacious Wave Pool VIP Cabana is a great place to settle down if you want to hold a birthday party or gathering.  
Make your trip a memorable one now by relaxing at the Cabana, top with food ordering services. You'll get to choose 4 different cabanas of your choice (Beach View, Family, Family VIP and Wave Pool VIP), The Cabana is a flexible place for your resting needs. It also provides the flexibility of planning, and suits for any occasion. 
For huge groups or families of 8 (or more), it'll be ideal to get the Family VIP or Wave Pool VIP Cabana. The VIP cabanas is perfect for you and your family to unwind as there is TV and fridge if you want to store your food.  
We understand that a summer family day can be stressful, so we promise you a stress-free and unforgettable experience at Raging Waters. You can leave your worries aside… we'll tend to your needs and make sure that you enjoy the best summer with your family. 
For your recharging needs, we have provided food ordering service for all Cabanas, so you can have more time to enjoy yourself. 
Take note that small snacks and drinks are permitted in the park – we also have plenty of delicious meals and treats to keep you energised to soak in this rip-roaring fun summer. The best thing is that you can dine at a nearby restaurant, which has a beautiful view of the beach. 
We not only have fun for the adults, but we also have… 
Guaranteed fun for the little ones. 
Build the best family memories with our miniature thrill slides.
Raging Waters has something for everyone – for kids, we offer miniature versions of our larger thrill slides, so that your children will feel entertained.  
Introducing the rip-roaring Dinosaur Lagoon, a fun attraction that allows you step back in time and bring the dinosaurs back to life! It's also a great place to lounge and float around, and you can feel the surrealness of the prehistoric age. Dinosaur Lagoon is terrific if you just want to sit back, relax and enjoy the prehistoric summer to yourself. 
Create splashtacular fun with your children at Raging Waters Jnr and get soaked under a giant tipping bucket. Use the water sprays to drench your friends or family! 
Fun can also be found in shades. There's a shaded Splash Zone for toddlers, to keep them happy and safe so they can enjoy soaking themselves in this fun filled summer.
For the ones who prefer a laid-back atmosphere, the Dinosaur Lagoon is the place to go. It's also a perfect place for kids as they can bask in the sun while coasting around an endless waterway.  
Raging Waters is a great place to celebrate your child's birthday. Plenty to keep the young adventurers at bay, and it also gives you lots of choices to indulge in this rip-roaring summer. 
There's plenty of fun and excitement for everyone of all ages at the Raging Waters Sydney. It has all the "Beat the Heat" elements which makes it a popular destination for both locals and tourists. The vast beach has a lot to walk around, and it gives you plenty of moments to capture and frame forever. Raging Waters is the place to go, for families or friends, who are seeking nostalgia and a slice of thrills in between. 
Ready to capture your first 360 rip-roaring memory at Raging Waters Sydney? Get your tickets now!